Curious About Strip Clubs in Sin City?
You're in Las Vegas, "Sin City", or you will be soon…and you want to know what we're talking about when we say "What happens in Vegas, only happens in Vegas". The best place to start is to dive in with a firsthand encounter of a strip club. You'll able to have an incredible adventure. However, there are a few things that you should know. Bachelor party planners take note, this information will really help you too!
Nude Las Vegas strip clubs can be intimidating and expensive, if you're not sure where to go, what to do when you get there, or how to conduct yourself. Get an inside look as to how a gentleman's club works in Vegas. Learn about how to navigate a strip club to get the best possible experience, or it may lead to a less than desirable experience, or worse, a bachelor party fail.
That's what we're here for. We're your guide to ensure you can navigate the Las Vegas strip clubs and guarantee yourself a pleasurable (and memorable) time.
Gentlemen's Clubs
In Las Vegas, there's a rule – if there's alcohol being served, the club will only be topless.
Totally Nude Clubs
If you want to see a fully nude show on stage, no alcohol will be served. *With one exception.
How Do Strip Clubs Work, Anyways?
Totally nude strip clubs in Las Vegas invite you in for an amazing show of talented girls who will dance and show off for you. Of course, some clubs will offer various themes as a way to set themselves apart from the competition.
In Las Vegas, there's a rule – if there's alcohol being served, the club will be topless only. If you want to see a fully nude show on stage, no alcohol will be served. This means that you have a decision to make about the entertainment and how you want to spend your evening.
While there are Vegas strip club deals available from time to time, you'll typically be responsible for a cover charge. This is the cost of admission into the club. If you're booking a VIP experience or you're going with a large group of people, your cover charge may be waived. Bachelor parties can find great deals too, but be aware of how they get you to spend on top of that.
Be sure to check out our FAQs to ensure you learn more about how the Vegas strip clubs work and how to maximize your experience.
Learn How To Tip
Tipping is an important part of the Vegas strip club experience. Don't assume that you're going to pay a cover charge and avoid having to pay anything else for the entirety of your stay inside a Las Vegas strip club. In Vegas the difference between a VIP and a regular person is usually how much they spend and tip.
Any time that you're watching the girls dance, tip them. Any time that you pay extra for a lap dance, tip them. And, if you're getting VIP experience, expect to tip them.
As you establish yourself as a good tipper, you may find that you get a more enjoyable experience. You'll find that drinks will arrive at your table faster, the girls are more overt with their dancing, and some of the hotter girls will visit you.
$1 is the bare minimum for tipping the girls, though the larger denominations can help to enhance your service. You'll also want to tip the cocktail servers throughout your time in the club.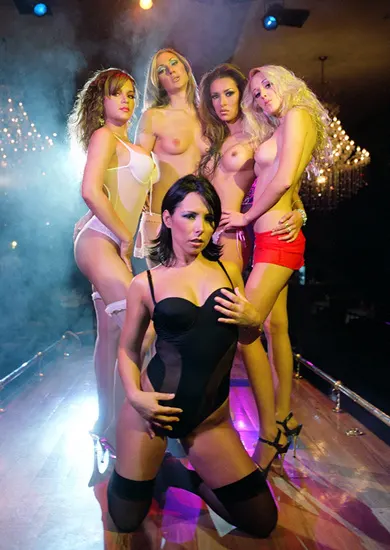 Our Info Will Help You Have a Great Time!
There's no reason to awkwardly enter a strip club in Vegas when you've never gone into one before. There's also no reason to pay more in cover charges or VIP club deals simply because you didn't know where to go.
Our information will ensure that you know what to expect when you go to popular strip clubs in Las Vegas. You'll gain confidence when you know more, too – and confidence can ensure that you get a lap dance from one of the Vegas strippers.
Plenty of services are available, though they can vary by club. Think about what you want. Nude or topless? Are you looking for a lap dance or do you prefer to simply watch the entertainment on stage? As you make decisions about your experience, you'll be able to find the right club. Plus, our strip club directory can help you to make sense out of all the choices.
Start preparing for your trip to a Las Vegas strip club. Whether you're completely new to the scene or just new to the Vegas scene, we've got all of the information that you need. If you are a best man doing your research for a bachelor party Vegas style, then you have come to the right place.
VIP Mythology
What happens in VIP rooms? Whether a strip club calls it the "champagne room" or the VIP room, it's important to know what goes on.
You've likely heard the stories. ANYTHING can happen in there, right? You go in there as a boy and you emerge as a man. The mythology that surrounds the VIP area is extensive, and it's important that we break up a few of the myths. Of course, you'll find out more as you check out our VIP Club FAQs page.
The VIP room is a pay-to-play component of a Vegas strip club. It can ensure that you get a VIP experience from the moment you arrive until the moment you leave. It can entitle you to the hottest girls who know how to show you a good time. It can also entitle you to a bit more privacy than you would get within the main area of the strip club.
First things first.
There are cameras all throughout the strip club, including the VIP room. There's always someone watching what's going on – and this is to ensure that the strip club girls are always safe and protected. The same rules that apply in the main area apply in the VIP room. You can't suddenly touch the girls, lick the girls, or kiss the girls.
Prostitution is illegal in Las Vegas. If you want to spend time with a prostitute, you'll want to consider visiting a brothel in Storey County. However, if you plan on staying in Clark County, which is where Vegas is located, it's illegal. Even asking one of the girls to perform a sexual act is against the law – so be careful what you ask for.
Inside the club VIP room, you will pay by the hour to be there. Most clubs will also expect you to purchase alcohol – such as a bottle of champagne. It's a bit more expensive to be in the VIP room, but you can enjoy a lap dance without everyone in the club watching it happen.
The rules are clearly posted – but you can't touch without the permission of the dancer. And, as for getting permission, refer back to the information about tipping.
Get A Free Limo To The Strip Clubs!
Book with us and avoid all the entry fees. Read about all the ways the clubs can hit you up depending on how you arrive.
Arrive in style and spend your money where it counts, on the girls and the drinks! Start your bachelor party right with a limo full of all the necessities: strippers and booze!